Create a culture employees actually want to join.
In our world of rapid change, a courageous culture is your competitive advantage. Courageous Cultures provides a road map to build a high-performance, high-engagement culture around sharing ideas, solving problems, and rewarding contributions from all levels.
"By following the guidance in this savvy book, you'll attract first rate talent, serve your customers better, and liberate people to perform their best."
–

Daniel H. Pink

, New Your Times bestselling author of WHEN, DRIVE and TO SELL IS HUMAN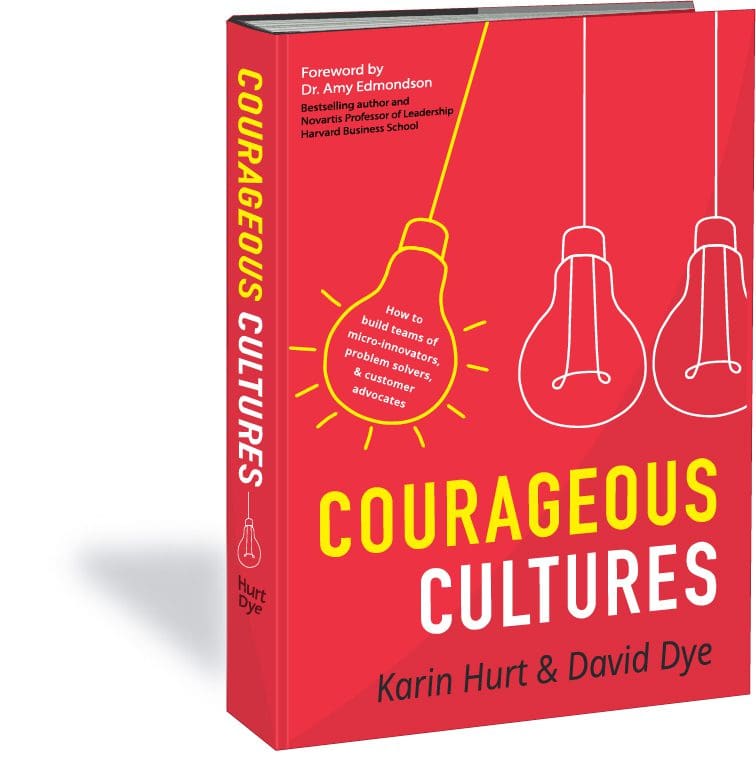 COURAGEOUS CULTURES by Karin Hurt and David Dye
How courageous is the culture inside of your organization?
Are your employees engaged? Does the team feel heard? Do your leaders feel understood? Is your culture moving you towards high-performance?
Why wait? Get your sample chapters and the foreword by Dr. Amy Edmondson of Harvard.
Download the Sample Chapters!
Receive the Executive Strategy Guide
By submitting your email address, you understand that you will receive email communications from Let's Grow Leaders ( 303 S. Broadway #200-332, Denver, CO 80209 USA), providing information about training programs, development tools, and services. You may unsubscribe from these email communications at any time. If you have any questions, please review our Privacy Policy or email us at [email protected].
Listen to the foreword by Amy Edmondson and Chapter 1 of Courageous Cultures: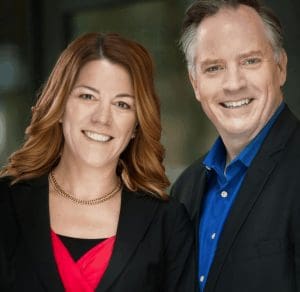 "Silence isn't always golden. Effective organizations need people to speak up. Courageous Cultures is the ultimate guide to building a workplace environment that values outspokenness. By following the guidance in this savvy book, you'll attract first-rate talent, serve your customers better, and liberate people to perform their best."
DANIEL H. PINK
#1 New York Times bestselling author of When, Drive, and To Sell Is Human
"Hurt and Dye offer leaders a wonderfully practical road map for how to get the most from their people—by creating a culture where safe silence dies and small acts of courage compound to increase innovation, problem solving, and customer advocacy. If you want to increase contribution and multiply the capability of your team, Courageous Cultures is a must-read."
LIZ WISEMAN
New York Times bestselling author of Multipliers and Rookie Smarts
"Imagine if you could cast a magic spell over your entire team and suddenly all the complainers became problem solvers, the safely silent became innovators, and your bystanders became upstanders. Courageous Cultures, by Karin Hurt and David Dye, will teach you how to cast that spell. Unlike other management tomes that are short on specifics, this book gives you the specific advice, ac- tion plan, and templates to transform your organization."
KEVIN KRUSE
CEO of LEADx and New York Times bestselling author
"Courageous Cultures offers a compelling and actionable roadmap for business leaders to tap into the energy and wisdom lying just below the surface within their own organizations. With data- backed insights and a straightforward approach, Courageous Cultures will help leaders create a strong culture where the great ideas brewing in the minds of knowledgeable frontline workers are always welcomed and fully encouraged by every manager. In a business environment faced with continually shifting customer expectations and rapidly changing competitive forces, no leader should be without this valuable resource."
RANDY OOSTRA
President and CEO of ProMedica Health System
"In today's uncertain times, courage is indispensable to effective leadership. Without a culture of courage, leaders cannot lead or ganizations to seize opportunities for growth that change brings. This book offers simple steps on how leaders can nurture a bold organizational culture that encourages people to speak up, take smart risks, innovate, become problem solvers, and seize com- petitive advantage in a fast-transforming business environment."
SUNIL PRASHARA
President and Chief Executive Officer of Project Management Institute
Tell Your Friends About Courageous Cultures by Karin Hurt and David Dye
Want more like these?
Visit our sharables page!